4525 Morrison Street, NF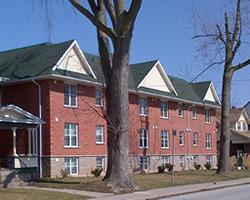 Niagara's first LEED registered mult-iunit residential rental development.
In partnership with Niagara Regional Housing, Keefer Developments Ltd. Is constructing a LEED 24 unit apartment building. Located within the CIP of downtown Niagara Falls, the project will add sustainable development to an area in need of affordable housing.
---
Book Depot
The former Gallaher Paper Mill was an abandoned industrial facility occupying nearly 12 acres within the downtown core. The site was functionally obsolete, and is approximately 400,000 sq. ft.KDL completed exterior works while Book Depot, one of the world's largest wholesale and retail book outlets transformed the interior to a thriving warehouse employing 170 people
---
Keefer Mansion Inn
KDL managed a 3 year restoration of the former Maplehurst Hospital, transforming the facility to The Keefer Mansion Inn.
---
Welland Mills
The historic Welland Mills is an important landmark within the City of Thorold. The building with its massive exterior walls was suffering from neglect, interior decay, and economic obsolescence.Keefer Developments Ltd. transformed the building to a mixed-use development while preserving its historic significance. Building materials and architectural restoration reflect the high quality character of the original construction.